09320463101 heavy duty connector for plastic injection machine
Part

SO-HEE-046-FC

Number of contacts

16 pins

Rated current

16A

Rated voltage conductor

500V

Product Certification

UL CUL CE ROHS DMT

Order No.

09320463101

Product Certification

UL CUL CE ROHS DMT IEC-61984

Packaging Details

Standard Export Cartons

Delivery Time

Within 7 Days

Payment Terms

L/C, T/T, Western Union, Paypal

Supply Ability

100000 pcs per month
Contact Now
Download Drawing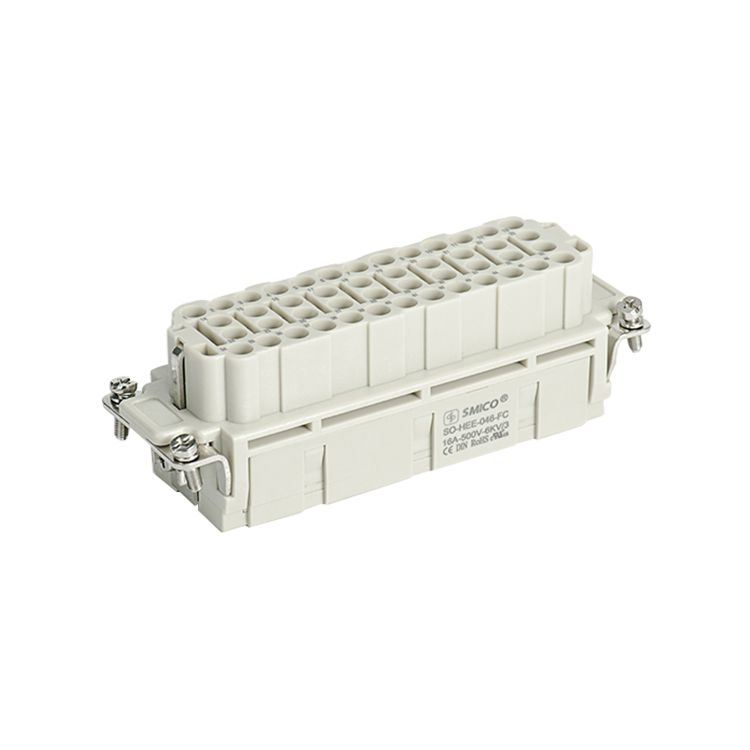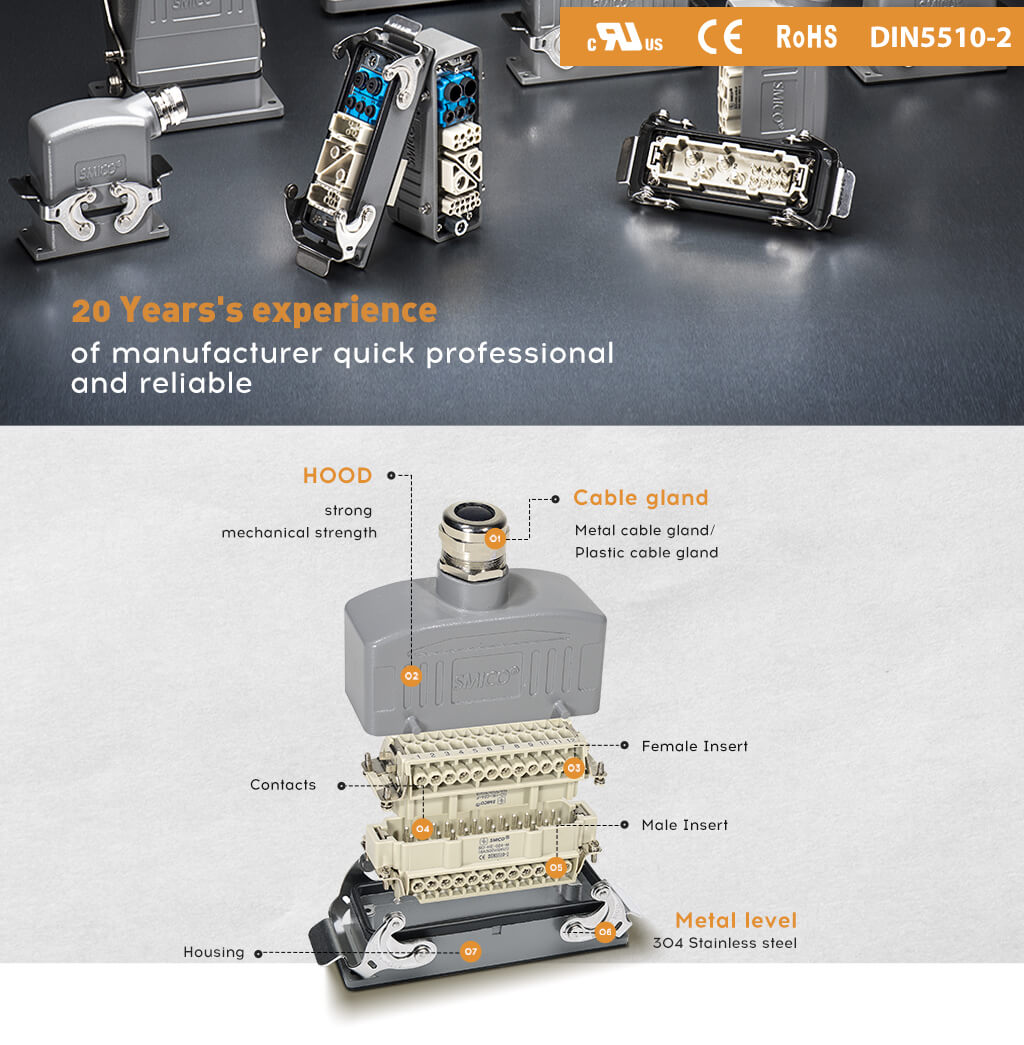 09320463101 heavy duty connector for plastic injection machine
09320463101 heavy duty connector for plastic injection machine 46pins , crimping type and use crimping tool and removal to operation input and output , the pins has silver or gold coated
46 Poles+PE,16A,Crimping Female insert :
Inserts
Suitable Shell:

24BHood/Housing

Number of contacts
46
Electrical data acc. to EN 61 984
---Rated current
16A
---Rated voltage conductor
500V
---Rated impulse voltage
6kV
---Pollution degree
3
---Pollution degree 2 also
16A 830V 8kV 2
Rated voltage acc. to UL/CSA
600V
Insulation resistance
≥1010Ω
Material
polycarbonate
Limiting temperatures
-40℃...+125℃
Flammability acc. to UL 94
V0
Mechanical working life(mating cycles)
≥500
Contacts
Material
copper alloy
Surface
hard-gold plated
hard-silver plated
Contact resistance
≤1mΩ
Crimp terminal
---Wrie gauge
0.14-4.0mm2
---AWG
26-12
---Stripping length
7.5mm
SMICO heavy duty connector can match the following interchangeable.
The hood and housing for H24B .
| | | |
| --- | --- | --- |
| Suppier | Plug insert | Socket insert |
| SMICO | SO-HEE-046-MC | SO-HEE-046-FC |
| H | 09320463001 | 09320463101 |
| ILME | | |
| TE | | |
| LAPP EPIC | 10.1864C0 | 10.1874C0 |
| PHOENIX | 1584761 | 1584758 |
| MOLEX | | |
| WEIDMULLER | HDC HEE 46 MC | HDC HEE 46 FC |
| WIELAND | 70.810.4656.0 | 70.800.4656.0 |
| AMPHENOL | | |


SMICO heavy duty connector
Compatible with other brands

accept OEM /ODM

accept customized colour : like blue ,black

The popular parts in stock , delivery time fast

Export Packing : Packing for each items respectively or packing for full one set

Heavy-duty connectors are specially designed and applied to meet the requirements of harsh environmental conditions.
The main application areas are industrial automation, equipment manufacturing and industrial system buildings, as well as information and control technology.
Its shell protects the instrument from rain, ice and dust. Compared with the traditional connection method, the use can save 20-30% of the installation cost of the machining center;

it increases the production efficiency and reduces the error rate of the wiring.

Such products are widely used in machinery, industrial systems and transmission equipment. With the in-depth development of industrial automation, more innovations have appeared in mechanical products. For example, many products have been modularized and expanded in accordance with the needs of the application. The use of heavy-duty aviation plug connectors including pneumatic modules and high-current modules not only realizes the barrier-free and fast connection between modular devices, but also ensures the transmission of signals and power supply.

For machinery and equipment manufacturers, it can save installation time, secure and reliable connections, and reduce overall production costs. For terminal users, they can freely install and operate equipment without any professional guidance. It also becomes easy to maintain. This not only increases the effectiveness and practicability of the mechanical equipment, but also reduces the parking time and the equipment maintenance time. The efficiency has been effectively improved. Meet the needs of customers.

Feedback